BAOFENG UV-5R III Tri-Band Green UHF/VHF Walkie Talkie Two Way FM Radio + Headset (Earpiece)
BAOFENG
SKU:
BF00035USBG
Bulk Pricing:
Below are the available bulk discount rates for each individual item when you purchase a certain amount
Buy 2 - 3 and get 3% off
Buy 4 - 5 and get 5% off
Buy 6 - 10 and get 7% off
FREE SHIPPING to regions in Asia, United Kingdom and the United States.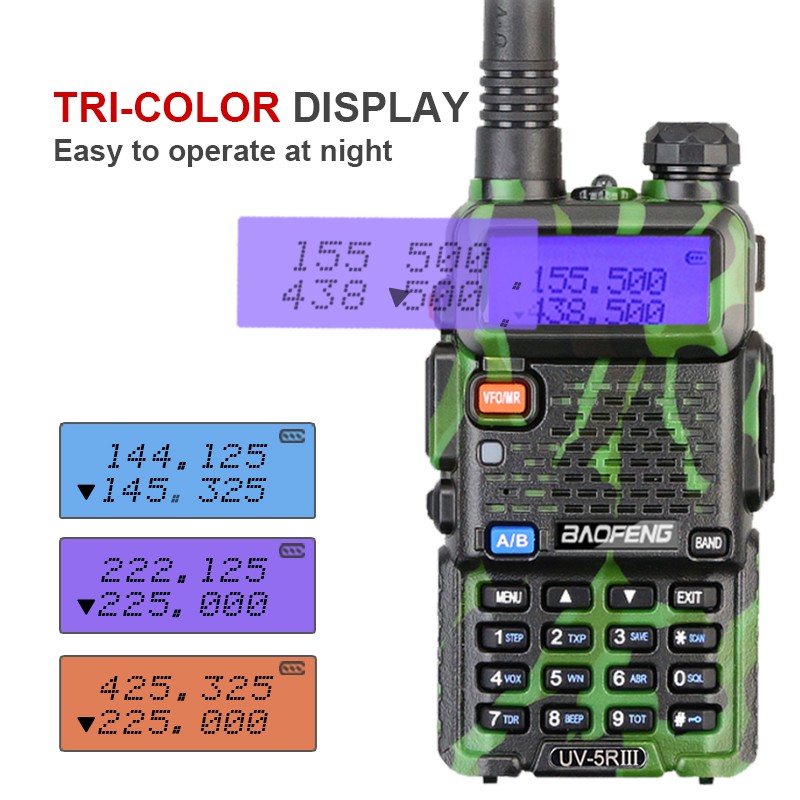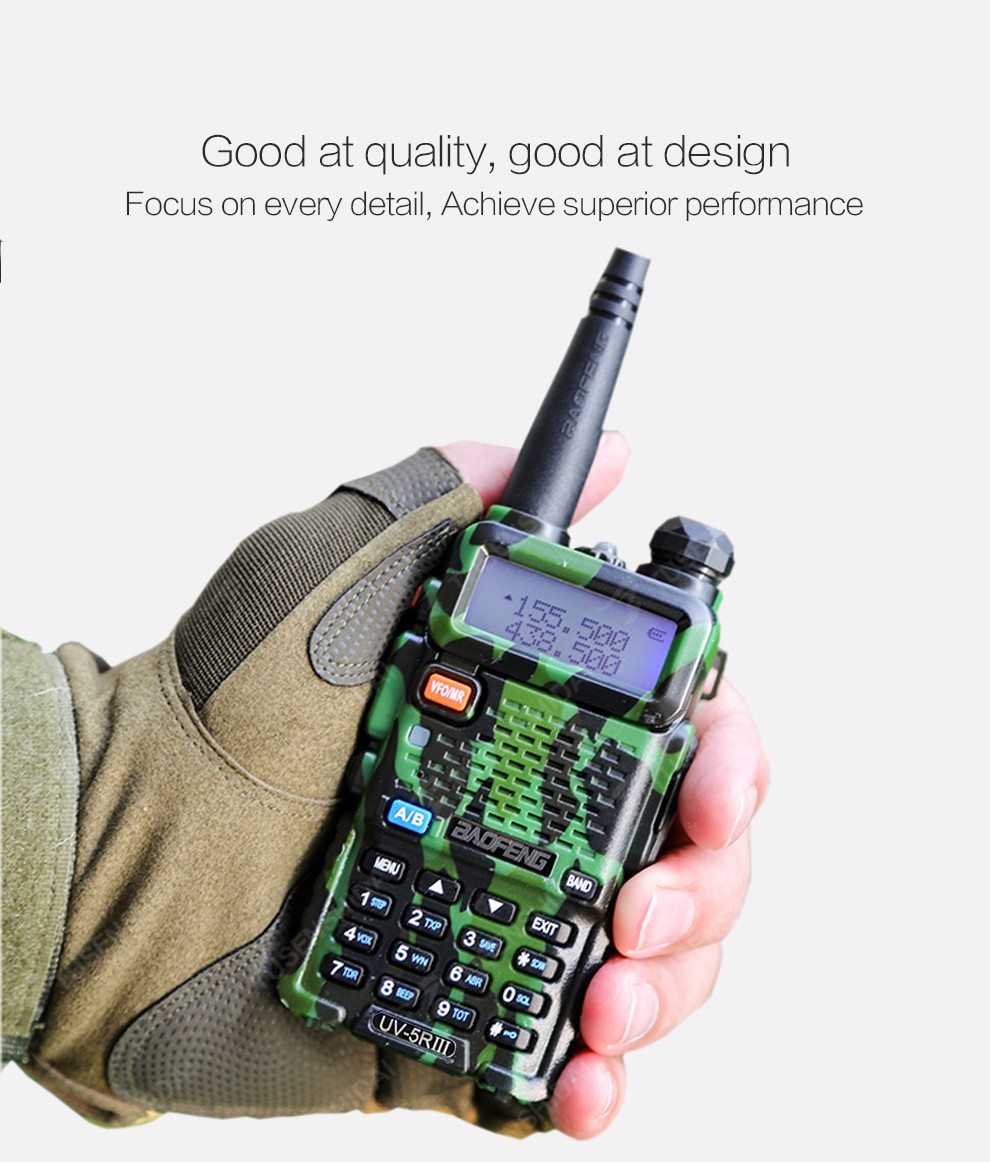 The transceiver is a micro-miniature multiband FM transceiver with extensive receive frequency coverage, providing local-area two-way amateur communications along with unmatched monitoring capability
Features for VHF/ UHF Tri-Band Two-Way Radio
Earpiece / mic type Kenwood plug type

Antenna SMA - Female

Frequency Range 136-174 / 220-260 Mhz / 400-520 MHz

Tri-Band Display, Dual Freq. Display, Dual-Standby

Output Power 4 / 1 Watts

128 Channels 50 CTCSS and 104 CDCSS

Built-in VOX Function

1750 Hz Brust Tone

FM Radio (65.0 MHz - 108.0 MHz)

LED Flashlight

Large LCD Display

High / Low RF Power Switchable

25 KHz / 12.5 KHz Switchable

Emergency Alert

Low Battery Alert

Battery Saver

Time-out Timer

Keypad Lock

Monitor Channel

Channel Step 2.5 / 5 / 6.25 / 10 / 12.5 / 25 KHz

ROGER SET
Item number

UV-5R III

General

Frequency Range

65-108MHz(FM Receive only)

136-174MHZ / 220-260MHz / 400-480MHZ (TX/RX)

Channel No.

128

Frequency Stability

±2.5ppm

Antenna

High gain DualBand antenna

Antenna Impedance

50ω

Operating Voltage

DC 7.4V

Mode of operation

Simple or semi-duplex

Dimension(W x H x D)

100 x 52 x 32 mm

Weight

250g(including battery, antenna)

Transmitter

Output power

4W / 1W (Max 5W)

Modulation Mode

16kφF3E / 11kφF3E

Maximum deviation

<5kHz(Wide) / <2.5kHz(Narrow)

Spurious Radiation

<7μW

Adjacent Ch. power

≤-65dB(Wide) / ≤-60dB(Narrow)

Pre-emphasis characteristics

6dB

Current

≤1.6A(5W)

CTCSS/DCS deviation

0.5±0.1kHz(Wide) / 0.3±0.1kHz(Narrow)

Intermediation sensitivity

8-12mv

Intermediation distortion

<10%
Package Include
-1 x UV-5R III Green
-1 x 7.4V 1800mah Original Baofeng Li-ion Battery Pack
-2 x Antenna
-1 x Hand Strap
-1 x Belt Clip
-1 x ENG Manual
-1 x Desktop Charger with USB Connector Male
-1 x PTT Earpiece for free
Reviews
good item,highly recommand!

it works perfectly,the device meets my expectations.

Very satisfied with the product. Excellent service from the supplier.